Galvanized Steel Swing Gate
Swing gates are the most widely used gates within our industry. These gates come in both single and doubles. Steel swing gates are a great option when you need a economic and highly dependable choice. Manufactured with high strength polymer coated round tubing in accordance wih industry standards, steel swing gates can be manufactured to meet any size opening.   *Please note that the gate picture represents a custom gate.  Please refer to the style drawing for a more accurate representation of your gate.
We are here to help! Contact us with any questions.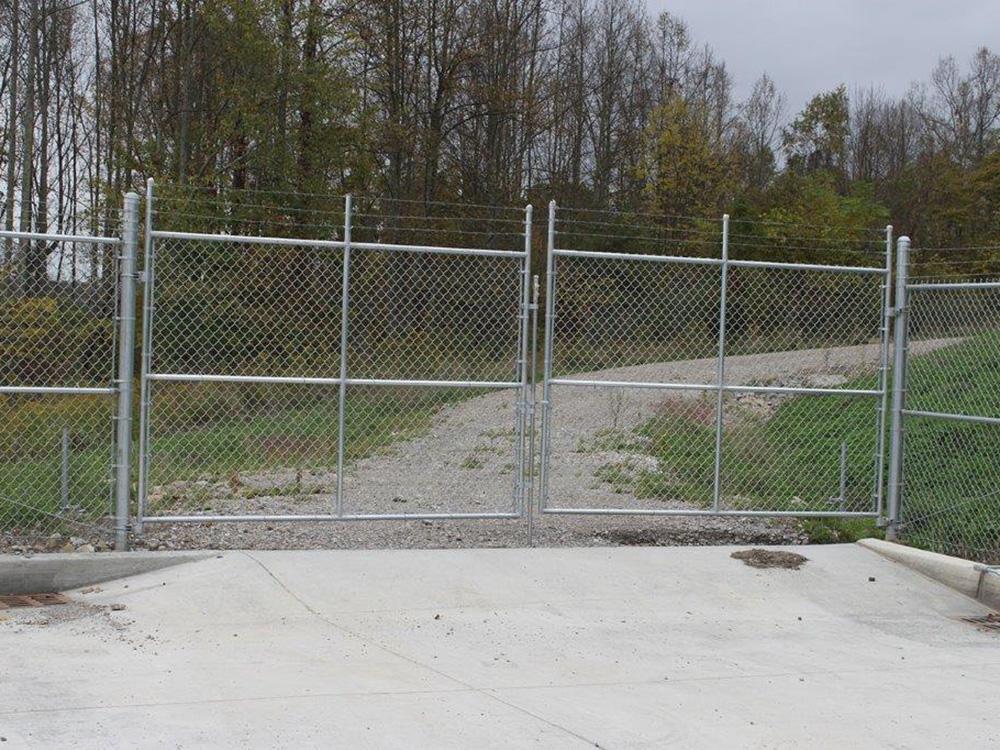 Select Gates
| | Product | Unit Price | Attributes |
| --- | --- | --- | --- |
| | Commercial Chain Link Double Drive Gate - 8' x 4' / No Barbwire | $984.23 | |
| | Commercial Chain Link Double Drive Gate - 10' x 4' / No Barbwire | $1,077.70 | |
| | Commercial Chain Link Double Drive Gate - 12' x 4' / No Barbwire | $1,171.23 | |
| | Commercial Chain Link Double Drive Gate - 8' x 5' / No Barbwire | $1,040.05 | |
| | Commercial Chain Link Double Drive Gate - 10' x 5' / No Barbwire | $1,133.58 | |
| | Commercial Chain Link Double Drive Gate - 12' x 5' / No Barbwire | $1,227.05 | |
| | Commercial Chain Link Double Drive Gate - 16' x 5' / No Barbwire | $1,414.13 | |
| | Commercial Chain Link Double Drive Gate - 10' x 6' / Barbwire | $1,674.28 | |
| | Commercial Chain Link Double Drive Gate - 10' x 6' / No Barbwire | $1,414.23 | |
| | Commercial Chain Link Double Drive Gate - 12' x 6' / Barbwire | $1,800.00 | |
| | Commercial Chain Link Double Drive Gate - 12' x 6' / No Barbwire | $1,537.33 | |
| | Commercial Chain Link Double Drive Gate - 14' x 6' / Barbwire | $1,916.00 | |
| | Commercial Chain Link Double Drive Gate - 14' x 6' / No Barbwire | $1,650.58 | |
| | Commercial Chain Link Double Drive Gate - 16' x 6' / Barbwire | $2,031.98 | |
| | Commercial Chain Link Double Drive Gate - 16' x 6' / No Barbwire | $1,763.90 | |
| | Commercial Chain Link Double Drive Gate - 20' x 6' / Barbwire | $2,600.05 | |
| | Commercial Chain Link Double Drive Gate - 20' x 6' / No Barbwire | $2,319.05 | |
| | Commercial Chain Link Double Drive Gate - 24' x 6' / Barbwire | $2,841.80 | |
| | Commercial Chain Link Double Drive Gate - 24' x 6' / No Barbwire | $2,555.40 | |
| | Commercial Chain Link Double Drive Gate - 30' x 6' / Barbwire | $3,189.73 | |
| | Commercial Chain Link Double Drive Gate - 30' x 6' / No Barbwire | $2,895.30 | |
| | Commercial Chain Link Double Drive Gate - 40' x 6' / Barbwire | $4,115.53 | |
| | Commercial Chain Link Double Drive Gate - 40' x 6' / No Barbwire | $3,807.60 | |
| | Commercial Chain Link Double Drive Gate - 10' x 7' / Barbwire | $1,739.25 | |
| | Commercial Chain Link Double Drive Gate - 10' x 7' / No Barbwire | $1,471.73 | |
| | Commercial Chain Link Double Drive Gate - 12' x 7' / Barbwire | $1,865.00 | |
| | Commercial Chain Link Double Drive Gate - 12' x 7' / No Barbwire | $1,594.78 | |
| | Commercial Chain Link Double Drive Gate - 14' x 7' / Barbwire | $1,981.00 | |
| | Commercial Chain Link Double Drive Gate - 14' x 7' / No Barbwire | $1,708.08 | |
| | Commercial Chain Link Double Drive Gate - 16' x 7' / Barbwire | $2,096.95 | |
| | Commercial Chain Link Double Drive Gate - 16' x 7' / No Barbwire | $1,821.35 | |
| | Commercial Chain Link Double Drive Gate - 20' x 7' / Barbwire | $2,680.23 | |
| | Commercial Chain Link Double Drive Gate - 20' x 7' / No Barbwire | $2,399.28 | |
| | Commercial Chain Link Double Drive Gate - 24' x 7' / Barbwire | $2,921.98 | |
| | Commercial Chain Link Double Drive Gate - 24' x 7' / No Barbwire | $2,635.63 | |
| | Commercial Chain Link Double Drive Gate - 30' x 7' / Barbwire | $3,269.95 | |
| | Commercial Chain Link Double Drive Gate - 30' x 7' / No Barbwire | $2,975.45 | |
| | Commercial Chain Link Double Drive Gate - 40' x 7' / Barbwire | $4,203.48 | |
| | Commercial Chain Link Double Drive Gate - 40' x 7' / No Barbwire | $3,902.98 | |
| | Commercial Chain Link Double Drive Gate - 10' x 8' / Barbwire | $1,796.70 | |
| | Commercial Chain Link Double Drive Gate - 10' x 8' / No Barbwire | $1,536.68 | |
| | Commercial Chain Link Double Drive Gate - 12' x 8' / Barbwire | $1,922.43 | |
| | Commercial Chain Link Double Drive Gate - 12' x 8' / No Barbwire | $1,659.70 | |
| | Commercial Chain Link Double Drive Gate - 14' x 8' / Barbwire | $2,039.05 | |
| | Commercial Chain Link Double Drive Gate - 14' x 8' / No Barbwire | $1,773.03 | |
| | Commercial Chain Link Double Drive Gate - 16' x 8' / Barbwire | $2,154.40 | |
| | Commercial Chain Link Double Drive Gate - 16' x 8' / No Barbwire | $1,886.28 | |
| | Commercial Chain Link Double Drive Gate - 20' x 8' / Barbwire | $2,752.90 | |
| | Commercial Chain Link Double Drive Gate - 20' x 8' / No Barbwire | $2,471.93 | |
| | Commercial Chain Link Double Drive Gate - 24' x 8' / Barbwire | $2,994.63 | |
| | Commercial Chain Link Double Drive Gate - 24' x 8' / No Barbwire | $2,708.28 | |
| | Commercial Chain Link Double Drive Gate - 30' x 8' / Barbwire | $3,342.63 | |
| | Commercial Chain Link Double Drive Gate - 30' x 8' / No Barbwire | $3,048.13 | |
| | Commercial Chain Link Double Drive Gate - 40' x 8' / Barbwire | $4,298.83 | |
| | Commercial Chain Link Double Drive Gate - 40' x 8' / No Barbwire | $3,990.88 | |
| | Commercial Chain Link Double Drive Gate - 10' x 10' / Barbwire | $1,919.13 | |
| | Commercial Chain Link Double Drive Gate - 10' x 10' / No Barbwire | $1,651.60 | |
| | Commercial Chain Link Double Drive Gate - 12' x 10' / Barbwire | $2,044.85 | |
| | Commercial Chain Link Double Drive Gate - 12' x 10' / No Barbwire | $1,774.70 | |
| | Commercial Chain Link Double Drive Gate - 14' x 10' / Barbwire | $2,160.88 | |
| | Commercial Chain Link Double Drive Gate - 14' x 10' / No Barbwire | $1,887.95 | |
| | Commercial Chain Link Double Drive Gate - 16' x 10' / Barbwire | $2,276.83 | |
| | Commercial Chain Link Double Drive Gate - 16' x 10' / No Barbwire | $2,001.28 | |
| | Commercial Chain Link Double Drive Gate - 20' x 10' / Barbwire | $2,905.78 | |
| | Commercial Chain Link Double Drive Gate - 20' x 10' / No Barbwire | $2,632.25 | |
| | Commercial Chain Link Double Drive Gate - 24' x 10' / Barbwire | $3,147.53 | |
| | Commercial Chain Link Double Drive Gate - 24' x 10' / No Barbwire | $2,868.60 | |
| | Commercial Chain Link Double Drive Gate - 30' x 10' / Barbwire | $3,495.45 | |
| | Commercial Chain Link Double Drive Gate - 30' x 10' / No Barbwire | $3,208.45 | |
| | Commercial Chain Link Double Drive Gate - 40' x 10' / Barbwire | $4,489.60 | |
| | Commercial Chain Link Double Drive Gate - 40' x 10' / No Barbwire | $4,181.60 | |
| | Commercial Chain Link Double Drive Gate - 10' x 12' / Barbwire | $2,041.20 | |
| | Commercial Chain Link Double Drive Gate - 10' x 12' / No Barbwire | $1,773.68 | |
| | Commercial Chain Link Double Drive Gate - 12' x 12' / Barbwire | $2,166.93 | |
| | Commercial Chain Link Double Drive Gate - 12' x 12' / No Barbwire | $1,896.70 | |
| | Commercial Chain Link Double Drive Gate - 14' x 12' / Barbwire | $2,282.95 | |
| | Commercial Chain Link Double Drive Gate - 14' x 12' / No Barbwire | $2,010.03 | |
| | Commercial Chain Link Double Drive Gate - 16' x 12' / Barbwire | $2,398.90 | |
| | Commercial Chain Link Double Drive Gate - 16' x 12' / No Barbwire | $2,123.28 | |
| | Commercial Chain Link Double Drive Gate - 20' x 12' / Barbwire | $3,058.25 | |
| | Commercial Chain Link Double Drive Gate - 20' x 12' / No Barbwire | $2,784.73 | |
| | Commercial Chain Link Double Drive Gate - 24' x 12' / Barbwire | $3,300.00 | |
| | Commercial Chain Link Double Drive Gate - 24' x 12' / No Barbwire | $3,021.08 | |
| | Commercial Chain Link Double Drive Gate - 30' x 12' / Barbwire | $3,647.93 | |
| | Commercial Chain Link Double Drive Gate - 30' x 12' / No Barbwire | $3,360.98 | |
| | Commercial Chain Link Double Drive Gate - 40' x 12' / Barbwire | $4,672.53 | |
| | Commercial Chain Link Double Drive Gate - 40' x 12' / No Barbwire | $4,364.53 | |
| | Commercial Chain Link Single Swing Gate - 4' x 4' / No Barbwire | $510.98 | |
| | Commercial Chain Link Single Swing Gate - 4' x 5' / No Barbwire | $543.48 | |
| | Commercial Chain Link Single Swing Gate - 6' x 5' / No Barbwire | $627.60 | |
| | Commercial Chain Link Single Swing Gate - 3' x 6' / Barbwire | $763.28 | |
| | Commercial Chain Link Single Swing Gate - 3' x 6' / No Barbwire | $641.10 | |
| | Commercial Chain Link Single Swing Gate - 4' x 6' / Barbwire | $815.20 | |
| | Commercial Chain Link Single Swing Gate - 4' x 6' / No Barbwire | $693.08 | |
| | Commercial Chain Link Single Swing Gate - 6' x 6' / Barbwire | $919.18 | |
| | Commercial Chain Link Single Swing Gate - 6' x 6' / No Barbwire | $797.03 | |
| | Commercial Chain Link Single Swing Gate - 3' x 7' / Barbwire | $806.33 | |
| | Commercial Chain Link Single Swing Gate - 3' x 7' / No Barbwire | $674.43 | |
| | Commercial Chain Link Single Swing Gate - 4' x 7' / Barbwire | $858.33 | |
| | Commercial Chain Link Single Swing Gate - 4' x 7' / No Barbwire | $726.40 | |
| | Commercial Chain Link Single Swing Gate - 6' x 7' / Barbwire | $962.23 | |
| | Commercial Chain Link Single Swing Gate - 6' x 7' / No Barbwire | $830.33 | |
| | Commercial Chain Link Single Swing Gate - 3' x 8' / Barbwire | $839.60 | |
| | Commercial Chain Link Single Swing Gate - 3' x 8' / No Barbwire | $707.70 | |
| | Commercial Chain Link Single Swing Gate - 4' x 8' / Barbwire | $891.60 | |
| | Commercial Chain Link Single Swing Gate - 4' x 8' / No Barbwire | $759.68 | |
| | Commercial Chain Link Single Swing Gate - 6' x 8' / Barbwire | $995.50 | |
| | Commercial Chain Link Single Swing Gate - 6' x 8' / No Barbwire | $863.60 | |
| | Commercial Chain Link Single Swing Gate - 3' x 10' / Barbwire | $906.23 | |
| | Commercial Chain Link Single Swing Gate - 3' x 10' / No Barbwire | $774.33 | |
| | Commercial Chain Link Single Swing Gate - 4' x 10' / Barbwire | $958.20 | |
| | Commercial Chain Link Single Swing Gate - 4' x 10' / No Barbwire | $826.30 | |
| | Commercial Chain Link Single Swing Gate - 6' x 10' / Barbwire | $1,062.10 | |
| | Commercial Chain Link Single Swing Gate - 6' x 10' / No Barbwire | $930.20 | |
| | Commercial Chain Link Single Swing Gate - 3' x 12' / Barbwire | $982.38 | |
| | Commercial Chain Link Single Swing Gate - 3' x 12' / No Barbwire | $850.45 | |
| | Commercial Chain Link Single Swing Gate - 4' x 12' / Barbwire | $1,034.35 | |
| | Commercial Chain Link Single Swing Gate - 4' x 12' / No Barbwire | $902.45 | |
| | Commercial Chain Link Single Swing Gate - 6' x 12' / Barbwire | $1,138.30 | |
| | Commercial Chain Link Single Swing Gate - 6' x 12' / No Barbwire | $1,006.40 | |