6' Underscallop AFC-013
A 6' underscallop picket fence provides the same functionality as a standard vinyl picket fence, with the added touch that only a scallop could provide.  Each picket is cut to the correct height in order to ensure a seamless grade above the top rails.
Color Options
Details
5" x 5" x 96" posts
5" x 5" external caps
2" x 3 1/2" x 96" top and middle rails
2" x 6" x 96" bottom rails
7/8" x 3" pickets
7/8" x 3" dog ear pickets
We are here to help! Contact us with any questions.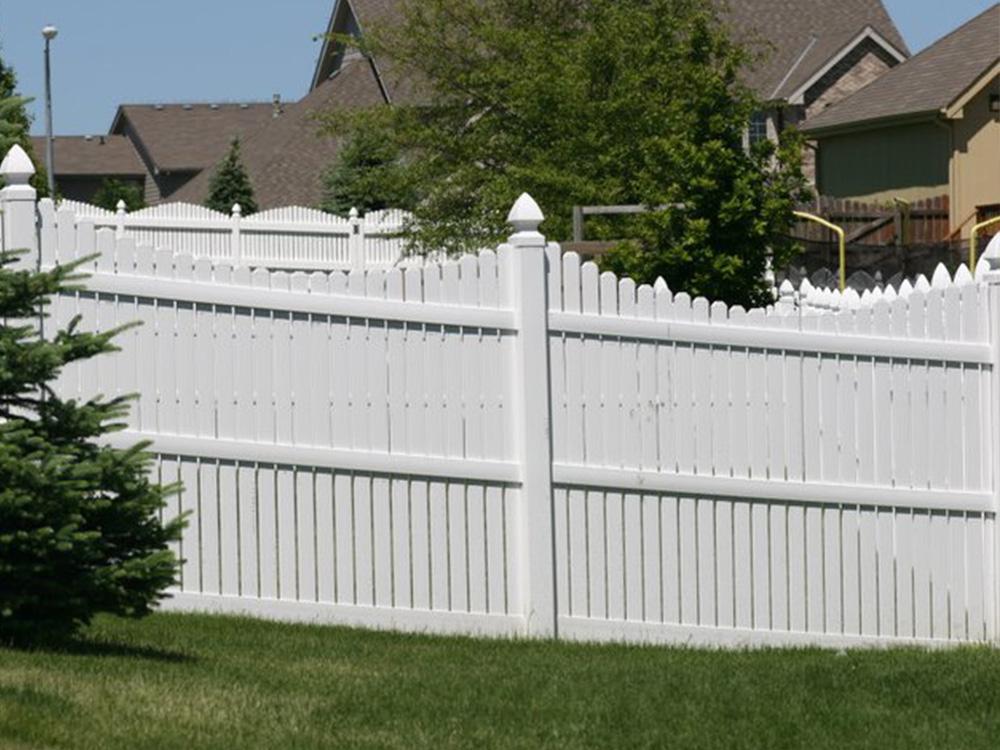 Select Colors
Click on color option »
Select Panels
| | Product | Unit Price | Attributes |
| --- | --- | --- | --- |
| | AFC-013 6' Tall x 8' Wide Underscallop Fence with 5/8" Air Space - White | $259.05 | |
| | AFC-013 6' Tall x 8' Wide Underscallop Fence with 5/8" Air Space - Tan | $247.64 | |
Select Posts
| | Product | Unit Price | Attributes |
| --- | --- | --- | --- |
| | White Line Post 5" x 5" x 8' | $25.63 | |
| | White End Post 5" x 5" x 8' | $22.89 | |
| | White 3 Way Post 5" x 5" x 8' | $28.37 | |
| | White Corner Post 5" x 5" x 8' | $25.63 | |
| | White Blank Post 5" x 5" x 8' | $19.27 | |
| | Tan Line Post 5" x 5" x 8' | $23.87 | |
| | Tan End Post 5" x 5" x 8' | $21.13 | |
| | Tan 3 Way Post 5" x 5" x 8' | $26.61 | |
| | Tan Corner Post 5" x 5" x 8' | $23.87 | |
| | Tan Blank Post 5" x 5" x 8' | $21.80 | |
Select Gates
| | Product | Unit Price | Attributes |
| --- | --- | --- | --- |
| | 4' x 6' White Single Swing Vinyl Gate | $1,906.70 | |
| | 6' x 6' White Double Drive Vinyl Gate | $2,450.63 | |
| | 3' x 6' Tan Single Swing Vinyl Gate | $1,260.08 | |
| | 8' x 6' Tan Double Drive Vinyl Gate | $3,704.95 | |
| | 3' x 6' White Single Swing Vinyl Gate | $1,296.33 | |
| | 5' x 6' White Single Swing Vinyl Gate | $2,160.58 | |
| | 6' x 6' White Single Swing Vinyl Gate | $2,592.70 | |
| | 5' x 6' Tan Single Swing Vinyl Gate | $2,100.08 | |
| | 6' x 6' Tan Single Swing Vinyl Gate | $1,008.05 | |
| | 6' x 6' Tan Double Drive Vinyl Gate | $2,518.75 | |
| | 10' x 6' Tan Double Drive Vinyl Gate | $4,197.95 | |
| | 12' x 6' Tan Double Drive Vinyl Gate | $5,031.25 | |
| | 12' x 6' White Double Drive Vinyl Gate | $4,901.25 | |
| | 10' x 6' White Double Drive Vinyl Gate | $4,084.38 | |
Select Caps
| | Product | Unit Price | Attributes |
| --- | --- | --- | --- |
| | 5" White External Cap | $1.22 | |
| | 5" White Gothic Cap | $5.80 | |
| | 5" White Ball Cap | $4.35 | |
| | 5" White Classic Cap | $3.87 | |
| | Tan Dog Eared Picket Cap 7/8" x 3" | $0.65 | |
| | Tan External Cap 5" | $2.75 | |
| | Tan Gothic Cap 5" | $4.64 | |
| | Tan Classic Cap 5" | $3.58 | |
Select Hinges
| | Product | Unit Price | Attributes |
| --- | --- | --- | --- |
| | Residential Hinge (Black) 3" x 3" | $37.15 | |
Select Latches
| | Product | Unit Price | Attributes |
| --- | --- | --- | --- |
| | Residential Latch (Black) 3" x 3" | $18.14 | |
Select Additional Options & Accessories
Select Pickets
| | Product | Unit Price | Attributes |
| --- | --- | --- | --- |
| | White Picket 7/8" x 3" x 16' | $11.61 | |
| | Tan Picket 7/8" x 3" x 16' | $11.95 | |
Select Rails
| | Product | Unit Price | Attributes |
| --- | --- | --- | --- |
| | 2" X 3-1/2" X 8' White Open Rail | $12.12 | |
| | White 2" x 6" x 96" Ribbed Routed Rail | $13.35 | |
| | 2" X 3-1/2" X 96" Tan Open Rail | $14.35 | |
| | Tan Ribbed Rail 2" x 6" x 16' | $23.21 | |
Select Latches
| | Product | Unit Price | Attributes |
| --- | --- | --- | --- |
| | Lokk Latch Pro Operational from Both Sides (Black) | $73.36 | |
| | Lokk Latch - One Side (Black) | $36.73 | |
Select Self-Closing Hinges
| | Product | Unit Price | Attributes |
| --- | --- | --- | --- |
| | 3 Way Adjustable Hinge | $69.92 | |
Select Drop Rods
| | Product | Unit Price | Attributes |
| --- | --- | --- | --- |
| | Residential Drop Rod (Black) 1/2" x 36" | $14.99 | |
Select Glue
| | Product | Unit Price | Attributes |
| --- | --- | --- | --- |
| | PVC Glue 1.5 oz | $5.98 | |
| | PVC Glue 8oz | $18.45 | |