6' Steel Flat Top Ornamental
Ornamental 6' Steel Flat Top fencing adds a touch of quality to any yard and home.  American Fence prefabricated ornamental fence panels are custom built for each section, built to 1/4" tolerances and are numbered to ensure custom installation. 
Details
2" Square posts
15/16" x 1 1/4" x 14 ga. Ribbed Channel Rails
5/8" square x 18 ga. Pickets
Brackets
We are here to help! Contact us with any questions.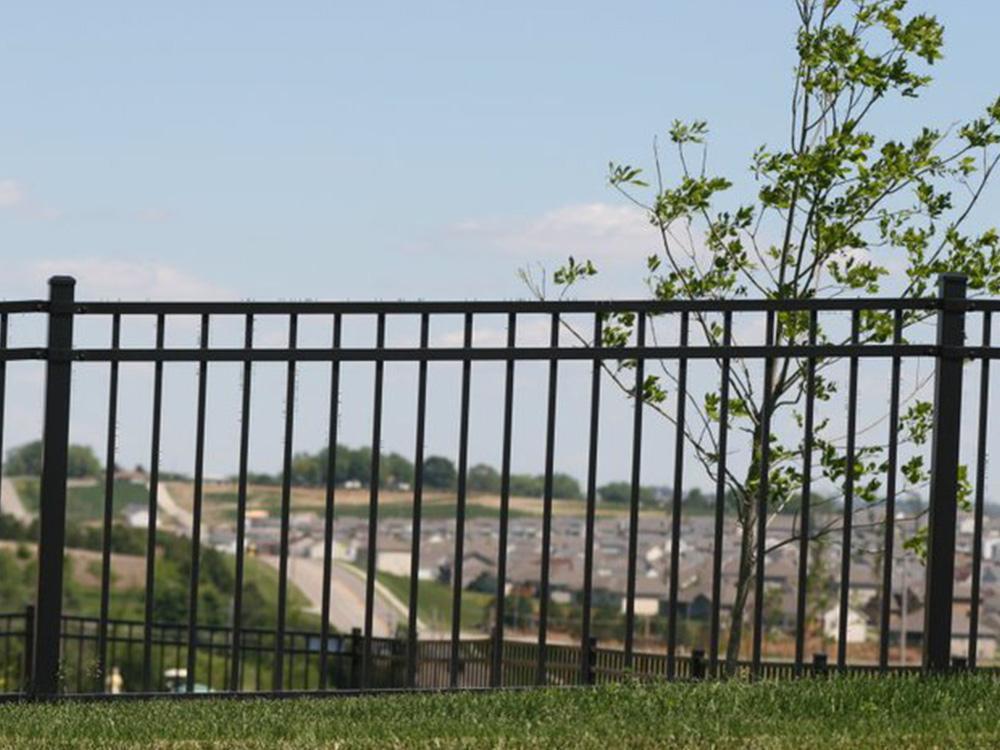 Select Panels
| | Product | Unit Price | Attributes |
| --- | --- | --- | --- |
| | Flat Top 8' Wide x 6' Tall Three Rail Fence Panel | $138.71 | |
Select Posts
| | Product | Unit Price | Attributes |
| --- | --- | --- | --- |
| | 2" Residential Ornamental Fence Post 93" | $25.69 | |
| | 2-1/2" Square x 96" Gate Post | $45.55 | |
Select Fence Hardware
| | Product | Unit Price | Attributes |
| --- | --- | --- | --- |
| | 2" Flat Cap | $2.80 | |
| | 2-1/2" Black Flat Cap | $3.71 | |
| | Ornamental Flat Mount Bracket 2" | $2.72 | |
Select Gates
| | Product | Unit Price | Attributes |
| --- | --- | --- | --- |
| | 48" x 72" Flat Top Single Swing Gate | $2,950.45 | |
| | 48" x 72" Overscallop Flat Top Single Swing Gate | $10,476.58 | |
| | 96" x 72" Flat Top Double Drive Gate | $3,931.95 | |
| | 96" x 72" Overscallop Flat Top Double Drive Gate | $12,280.58 | |
| | 36" x 72" Flat Top Single Swing Gate | $2,212.83 | |
| | 60" x 72" Flat Top Single Swing Gate | $2,458.70 | |
| | 72" x 72" Flat Top Single Swing Gate | $2,950.45 | |
| | 72" x 72" Flat Top Double Drive Gate | $2,948.95 | |
| | 120" x 72" Flat Top Double Drive Gate | $1,965.95 | |
| | 144" x 72" Flat Top Double Drive Gate | $8,846.83 | |
Select Hinges
| | Product | Unit Price | Attributes |
| --- | --- | --- | --- |
| | 1-1/4" Female Hinge (Sold as a Pair) | $9.98 | |
| | 2" Male Hinge (Sold as Pair) | $26.24 | |
| | 2-1/2" Male Hinge - Ornamental Gate | $21.21 | |
Select Latches
| | Product | Unit Price | Attributes |
| --- | --- | --- | --- |
| | 1-1/4" Fork Latch | $7.85 | |
| | 2" Fork Latch | $5.06 | |
| | 2-1/2" Fork Latch | $16.91 | |
| | 1-1/4" Latch Hanger | $8.85 | |
Select Additional Options & Accessories
Select Latches
| | Product | Unit Price | Attributes |
| --- | --- | --- | --- |
| | Lokk Latch - One Side (Black) | $36.73 | |
| | Lokk Latch Pro Operational from Both Sides (Black) | $73.36 | |
Select Self-Closing Hinges
| | Product | Unit Price | Attributes |
| --- | --- | --- | --- |
| | Tru Close Hinge-Self Closing Adjustable | $57.24 | |
| | 3 Way Adjustable Hinge | $69.92 | |
Select Brackets
| | Product | Unit Price | Attributes |
| --- | --- | --- | --- |
| | Swivel Bracket | $2.99 | |
| | Universal Bracket | $7.24 | |
| | Line Bracket | $4.14 | |
Select Hardware
| | Product | Unit Price | Attributes |
| --- | --- | --- | --- |
| | 2" Latch Hanger | $24.81 | |